We offer nearly 400 PMA parts & Sealants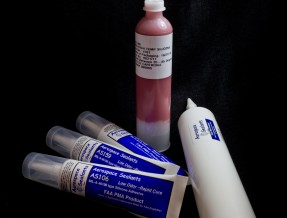 FAA-approved replacement for Momentive (GE) RTV106
AS106 High Strength RTV Silicone Adhesive Sealant
FAA approved AS106 as an acceptable replacement for Momentive (GE) RTV106.
AS106 is a high strength, fast curing, acetoxy silicone RTV adhesive rubber developed for applications requiring fast development of physical properties and excellent adhesion.  AS106 is a 1 part high temperature silicone that when applied to the substrate allows handling of the bonded assembly within minutes. AS106 works well in manual and automatic dispensing equipment.
PRODUCT FEATURES
Fast R.T. cure
Thixotropic paste
Excellent unprimed adhesion to metals and glass
Temperature range -45 to 260ºC
TYPICAL PROPERTIES
Cure System: ACETOXY
Work Time @ RT: 4 min.
Cure Time / Tack Free Time: 12 min. TF
Specific Gravity: 1.07
Durometer: 34 SHORE A
Tensile PSI: 600
Elong. %: 700
Tear PPI: N/A
Operating TEMP C: -45 – 260ºC
Viscosity CPS: 500,000
DOWNLOADABLE DOCUMENTS


Technical Data Sheet (TDS)

Material Safety Data Sheet (MSDS)

Visit Aerospace Sealants Website to check price and buy online.

Go Back