PMA Sales E-Commerce Launched!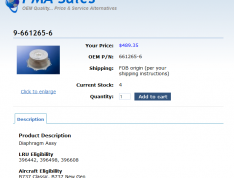 PMA Sales E-Commerce has been launched. Request a free account today from here.  Your benefits include:
You can get instant quotes with real-time inventory.
You can search our PMA parts not only by OEM or PMA P/N, but also by LRU eligibility or aircraft application.
You can procure parts online.  Various payment options available including credit cards.
Here is an example of product information available on the E-Commerce.