We offer nearly 400 PMA parts & Sealants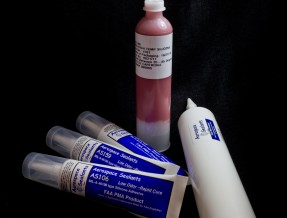 FAA-approved replacement for Dow Corning 3145
AS3145 High Strength RTV Silicone Adhesive Sealant
FAA approved as an acceptable replacement for Dow Corning 3145 (RTV3145).
AS3145 is a high strength, neutral curing, silicone RTV adhesive rubber developed for applications requiring fast development of physical properties and fast unprimed adhesion. AS3145 is a 1 part silicone that when applied to the substrate allows handling of the bonded assembly within an hour. AS3145 works well in manual and automatic dispensing equipment.
Available in Clear (P/N AS3145) and Gray (P/N AS3145P).
PRODUCT FEATURES
Fast R.T. cure
Thixotropic paste
Excellent unprimed adhesion to metals and glass
Fast onset of adhesion
Non-corrosive
TYPICAL PROPERTIES
Cure System: ACETOXY
Work Time @ RT: 8 min.
Cure Time / Tack Free Time: 15 min. TF
Specific Gravity: 1.12
Durometer: 50 SHORE A
Tensile PSI: 900
Elong. %: 850
Tear PPI: 200
Operating TEMP C: -55 – 260ºC
Viscosity CPS: 500,000
DOWNLOADABLE DOCUMENTS


Technical Data Sheet (TDS) – AS3145 Clear

Technical Data Sheet (TDS) – AS3145P Gray

Material Safety Data Sheet (MSDS)

Visit PMA Sales Sealants Retail Store to check our price and buy the product.

Go Back